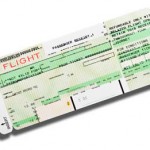 We all get spam. Some of it is harmless - just ads for free range, organic vitamins or how to make millions at home. They seem to come everyday and you may find yourself tempted to click the link or download the .zip file. Well, I'm here to remind you again. DON'T DO IT!
Today's virus ridden email comes with the title "Your order has been completed"...
From: "American Airlines" <official-no626@aa.com>
Sent: Friday, November 04, 2011 2:38 AM
To: sales@virtualdensity.com
Subject: Your order has been completed

Hello,
FLIGHT NUMBER 983
ELECTRONIC 430869603
DATE & TIME / NOVEMBER 06, 2011, 11:53 PM
ARRIVING / NEW YORK JFK
TOTAL PRICE / 345.34 USD
Please find your ticket attached.
You can print your ticket.
Thank you for your attention.
American Airlines.
The attachment is a .zip file entitled AA_Ticket_#3786.zip.  Surely, there's a airline ticket for me there.  One I didn't book and didn't pay for.  Maybe it's the lawyer for the King of Siam paying for my airfare so I can collect my inheritance in person instead of paying that pesky advance processing fee.
Got any spam mail you'd like to share?  Send it to me jmorandi@virtualdensity.com.
-Jenn 12/5/2011